About James Wickett
James D. Wickett, H.B.A., LL.B.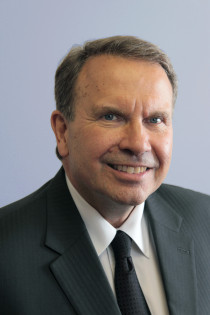 James Wickett has always acted as a keen advocate on behalf of his clients, his profession and his community. His wide-ranging legal experience on both sides of disputes gives him a valuable perspective on the practice of law, in all its dimensions. His expertise covers several areas, including business transactions and disputes, municipal and planning issues, real estate, and estate planning and administration.
James' clients are in the public and private sectors. Solicitor for the County of Kent for 14 years, he has also acted for many other municipalities and served as Federal Prosecutor for the Federal Department of Justice from 1985-1990.
James has been actively involved with the direction of health care in Chatham-Kent. A member of the Board of Directors of Public General Hospital for nine years, he was one of the architects and the first Chair of the Chatham-Kent Health Alliance.
James is a past Chair of the Governors of St. Clair College of Applied Arts and Technology and served as a member of the Governors of St. Clair College of Applied Arts and Technology for six years. He is the Past Chair of the Chatham-Kent Community Foundation.
James is a graduate of both the University of Western Ontario's Honours Business Administration Program and the University of Windsor, where he began his law career and graduated with a Bachelor of Laws in 1974.
A resident of Chatham-Kent, he is an active member of the community, both professionally and personally. He is a past President of the Kent Law Association and a member of the Canadian Bar Association.
His community involvement also includes chairing the board of St. Andrews United Church, and volunteering with both the Chatham-Kent YMCA and Chatham's Parks and Recreation Advisory Board.
James is a frequent speaker on business law and has also lectured at St. Clair College.
James and his wife Jann Parry-Wickett have three children. James and Jann sponsor the Dr. Jack Parry Scholarships provided annually to the top high school student athletes in Chatham-Kent.
---
Education
U.W.O. Honours Business Administration (H.B.A.), 1971
University of Windsor Bachelor of Laws (LL.B.) 1974
Memberships
Email
Contact Information
Contact Law Offices of James Wickett Professional Corporation:
Email info@wickettlaw.com
Phone 519 352-4529
James Wickett
Contact James Wickett:
Email jwickett@wickettlaw.com
Phone 519 352-4529 Ext. 1
Other
For more contact information, specific team members, office address, mailing address and map, please visit our Contact Information page.